3D display technology is becoming ever more powerful, but how does  this hardware actually produce an illusion of depth in human minds? And how could we make 3D displays even better?
These and other questions will be addressed in NewcastleGateshead this summer, with a Training School on "3D displays and the Human Visual System".
The Training School, which is funded by the European Training Network on Full-Parallax Imaging, will run from:
Monday June 27th – Friday 1st July 2016 at the Jurys Inn Hotel on the scenic NewcastleGateshead Quays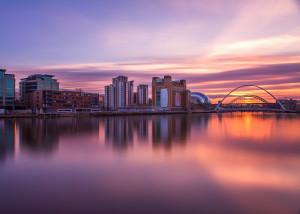 Talks and activities will be led by experts from around the world. Topics to be covered include:
basic anatomy and physiology of the human eye and visual areas of the brain
eye muscles and eye movements
foundations of psychophysics
visual cues to depth (and what happens when they conflict)
pros and cons of different 3D technologies
current applications such as robot-assisted surgery
The training school is aimed at post-graduate students and post-doctoral researchers, especially those from engineering / computing backgrounds who are working on visual displays and interested in learning more about human visual perception in order to create the best experience for viewers. No previous knowledge is required.
standard price: £250 for all 5 days, or £50 per day (including lunch)
academic price: £200 for all 5 days, or £40 per day (including lunch)
student price: £100 for all 5 days, or £20 per day (including lunch)
The prices above do not include accommodation.
There are limited rooms available that are already paid for – contact the Venue directly to confirm you are attending the conference and quote "Newcastle University" and they will take your booking. These rooms are on a first come / first serve basis so get them before they're gone!
Alternatively, attendees can book their own accommodation directly as shown on the Venue page. Early Stage Researchers funded by the ETN-FPI network do not have to pay but should contact Adam O'Neill (the administrative organiser) directly to confirm their attendance.
Partners and children are welcome to accompany attendees at their own expense, although please note that childcare will not be provided. They are also welcome to join in the evening activities (where appropriate for the ages of the children), but should register individually if they wish to attend the training school."
Visit our Schedule page for the programme for the week. Also, have a look at our Social Activities taking place each evening and contact Adam O'Neill if you would like to attend any of them.
Speakers include:
Bruce Cumming – Chief, Laboratory of Sensorimotor Research, National Eye Institute, National Institutes of Health, USA
Andrew Glennerster – Professor of Visual Neuroscience, Reading University, UK
Nicolas Holliman – Professor of Visualization, The Digital Institute, Newcastle University, UK
Gordon Love – Professor in the Department of Physics, Durham University, UK
Jenny Read – Professor of Vision Science, Newcastle University, UK
Ignacio Serrano-Pedraza – Profesor Titular de Universidad, Universidad Complutense de Madrid, Spain
Naeem Soomro – Honorary Professor of Urology, Newcastle University, UK
Simon Watt – Senior Lecturer, School of Psychology, Bangor University, UK
Getting to Newcastle
Newcastle Airport has many direct international flights. There are good transport links from the airport, with a metro to Newcastle city centre and a taxi rank. Alternatively, you can fly to London or Edinburgh and get a train to Newcastle. Newcastle train station is in the city centre and is a 15-20 minute walk to the venue.
| | |
| --- | --- |
| | ETN-FPI (Project number 676401) is funded under the H2020-MSCA-ITN-2015 call and is part of the Marie Sklodowska-Curie Actions — Innovative Training Networks (ITN) funding scheme |