Filipe Gama: Resea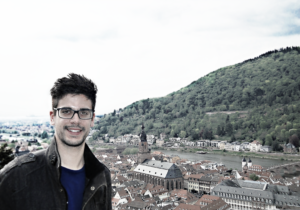 rch project 2, "Virtual 3D camera system for training and media production" (Tampere University of Technology)

"I am one of the ESRs that have started working recently on this project (in October 2016). Although, I have been following this project since the first training school. In the last couple of months, I have been working in calibration of multi-sensor/multi-camera with spherical geometry.
In addition, I also attended few courses in order to review some fundamentals and acquire more information that may help in my research. Moreover, I attended the two training schools organized by the ETN-FPI in Newcastle, United Kingdom and in Valencia, Spain, and yet, the workshop: "Multi-Camera Image Processing for Media Productions" held at the premises of the Centre for Immersive Visual Technologies (CIVIT), Tampere University of Technology, Finland."
Filipe has Bachelor's and Master's degrees in Electrical Engineering – Electronics and Telecommunications from Polytechnic Institute of Leiria (Portugal). During his Master's studies, Filipe performed part of the thesis at the University of Erlangen-Nuremberg, Germany.